I'm finally coming up for air after non-stop business travel over the last few months. I've been to Texas, Canada, New York, the UK and Ireland over a two-month period. Whew! Over the last 8 weeks, I've attended a few conferences, reconnected with old colleagues and made new industry friends as well.
Most recently, I attended the MRS Impact Week in London where I had the opportunity to present at The GRBN's International Workshop Day. The workshop was focused on two initiatives: The ROI of insights and The Participant Engagement Initiative (PEI).
The day was action-packed with lively panel discussions, presentations and group sessions. Attendees represented large brands, as well as various research agencies and specialists. I always love attending these types of events as you connect with those around you and dig deep into some of the most pressing issues facing our industry.
Discussing the Participant Engagement Initiative
I had the opportunity to co-present with Nikki Lavoie, founder of MindSpark Research International. Nikki and I, along with a host of other agencies and brands have been passionately involved in the PEI for nearly twelve months.
At the workshop, we shared the findings of a large-scale ROR (Research-On-Research) project conducted in late 2017. This ROR included both quantitative and qualitative methodologies and its primary aim was to uncover the key drivers of a positive participant experience and develop best practices for the industry.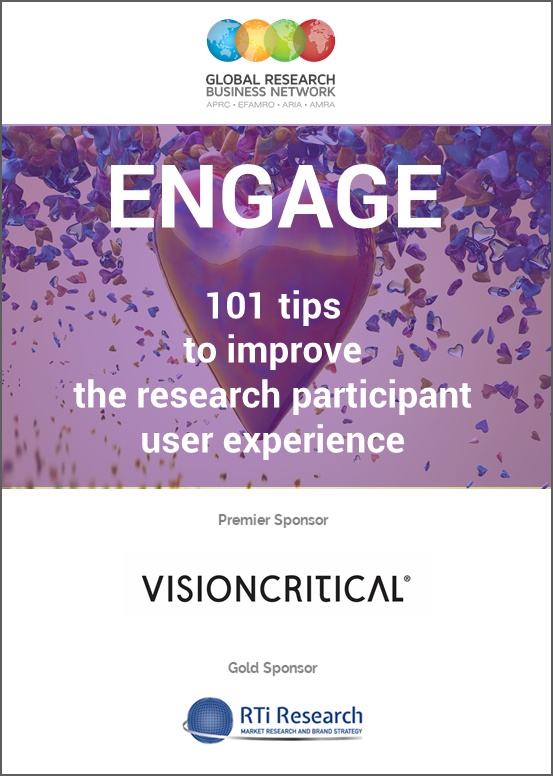 Our research, which fielded in the US and the UK to start, was further socialized via The Engage Handbook, a practical guide that includes 101 tips for improving the participant experience.
So, what did we learn from our research?  As an industry, we have a long way to go. We haven't hit rock bottom yet, but I think a sobering intervention is in order. I often talk about how we need to do more as an industry to protect the universe of people even willing to take our surveys. So why the blatant, ongoing disregard? You know what I'm talking about. The countless 30+ minute surveys jam-packed with grids. These surveys may programmatically render for a mobile device, but we are all kidding ourselves if we really think a mobile participant can complete these surveys successfully. Yes, they might "complete" the survey, but how reliable is their data…really?
Making Changes for the Health of the Industry
Our research demonstrated that there are several changes survey designers can make to improve the experience of survey participants. Simple things can be done that will have a major impact. For example, sharing the 'why' behind the research, a few data-points as well as the sponsoring brand or category (at the end of the survey), produced a much more positive experience for survey participants.
In fact, we observed a 20% lift in brand perception when these details were shared with participants vs. when they were not. Now, I know what you are thinking… there are instances when researchers simply can't divulge this level of transparency. Certainly, there are instances where this is the case, but the ROR/PEI team would like to challenge researchers to get creative and simply put, try harder.
Whether you believe it or not, market research is a very real and tangible brand touchpoint. Producing a negative experience for participants will have a negative impact on the brand you represent. Try explaining that to your CMO. Yikes! Ask yourselves, would you complete your survey?! If the answer is no, it's time to sharpen your pencil.
I'm so thankful to be involved in this initiative and I'm excited about the future work planned for the remainder of 2018. We are helping the GRBN host virtual webinars on our research and seeking to socialize these best practices via a certification program offered to brands and agencies alike. Interested in learning more?  Feel free to contact me directly at Lisa@innovatemr.com.
Before I leave you, I have one last nugget to share. I had an epiphany of sorts while across the pond visiting UK colleagues. As an American, we often refer to survey participants as "respondents," "sample," or even "users."  How cold. Conversely, in Europe, most researchers use the terminology of "participants."  On face value, this difference may seem unimportant. Think again. We need to humanize the people who participate in our research and it starts with language. I for one will be de-programming myself from the "respondent" vernacular ASAP.