At InnovateMR, we're proud of our super-powered panel, PointClub.com. So naturally we like to show it off a little. Our members make up one of the fastest growing, most engaged communities in the MR space… And they have a lot to say!
In anticipation of the Halloween season, we asked our Clubbers to spread some good juju and share their superstitious tendencies and beliefs. Here are some of the takeaways!
When asked about the mode of their beliefs, 73% of women stated they observe at least one superstition with total earnestness. 64% of men reported similar observance patterns.

The senior demographic exhibited the highest level of skepticism with 41% of members aged 65 or older indicating outright disbelief. Across other demos this propensity for skepticism was lower (45 – 64: 31%, 25 – 44: 20%, and 18-24: 33%).

The genders deviated on the specific types of superstition most observed, with the adage of "bad luck comes in threes" seeing the biggest disparity. 31% of women gave serious weight to the belief – more than double that of men (13%).

The superstitions most observed, by gender, are as follows: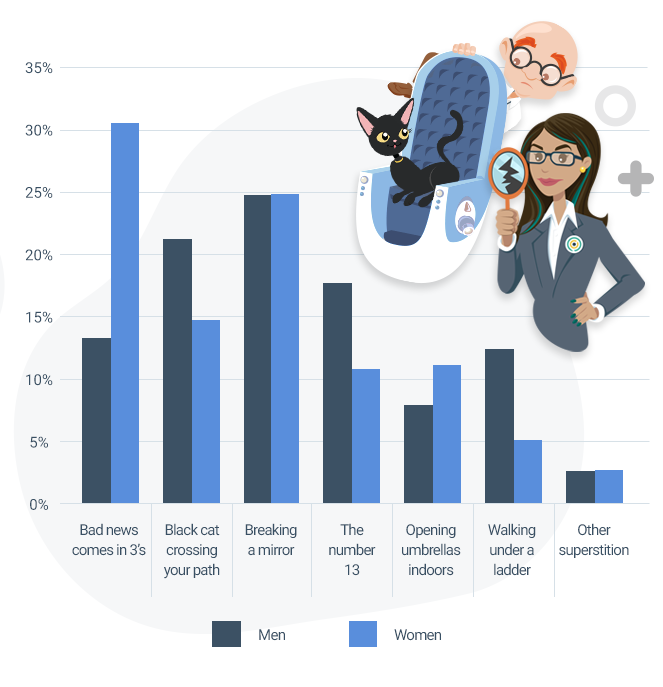 While today's showcase highlighted only American sentiments (and western superstitions), over 4,000 members from around the world took part in quizzes to bring us today's Point of Interest! Here are just a few of the fascinating superstitions our international members wrote in to share with us:
If you light a cigarette from a candle, a sailor dies (Lithuania)
Never sweep after sunset (India)
If you step in dog poop, only the left foot brings luck. Right brings misfortune. (France)
Never return straight home after a funeral, or a spirit will follow (Philippines)
We're grateful for the insights from our Clubbers, and we will be sure to always keep our fingers crossed when walking through any Parisian dog parks.
Building an Engaged Community
At Innovate, conversation is key. Quizzes are just one part of how we maintain a dialogue and rapport with our members. We believe "value" goes beyond a purely transactional relationship. Features such as quizzes allow us to spotlight results, share member quotes, and help close the feedback loop.