Trust is the ultimate currency in market research.  Unfortunately, our industry has treated participant trust as an endless commodity, only to realize it is in fact, finite and depleting quickly. Dwindling participation rates coupled with increasing consumer reluctance to share information led to the production of the global GRBN Trust Survey for 2018, the results of which I was proud to co-present at the Insights Association Corporate Researchers Conference on October 8.Led by GRBN's Andrew Cannon, the presentation featured (from left to right) Lisa Cooper, Rti Research, Bob Graff, MarketVision, Lisa Wilding-Brown, Innovate MR, Bonnie Breslauer, DISQO, Leigh Smith, Synchrony, and Walker Lewis, Critical Mix.
The 2018 Trust Survey Findings
The goal of the panel was to discuss the findings of the 2018 GRBN Trust Survey and explore the drivers behind the drop of trust in research. Specifically, what does this low level of trust mean for market research companies, their data, and their customers?
Overall, the survey found that only 27% of participants said they trusted market research companies, with a global average only slightly higher of 30%. The lowest result was from Australia where only 17% said they trusted research companies. Compared to other industries in the United States, market research companies scored below mobile phone operators, search engines, online stores, and retailers with loyalty programs. The only organizations that scored lower were media companies, social media companies and the Federal Government.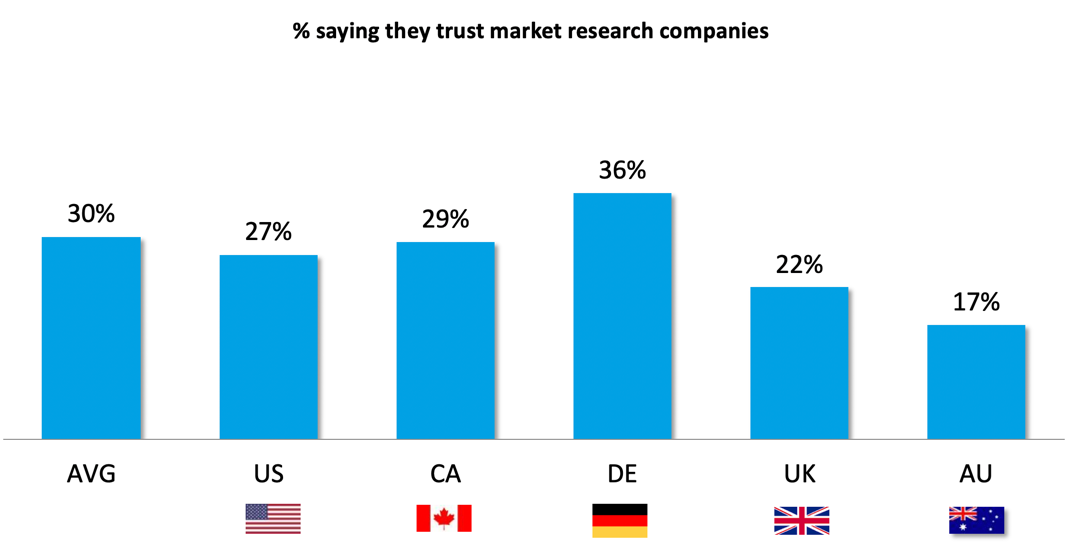 A big part of these trust issues stemmed from the use of personal data by these organizations. Only 11% of global participants felt it was completely appropriate for market research companies to use personal data compared to 58% that felt it was inappropriate (bottom-two-box).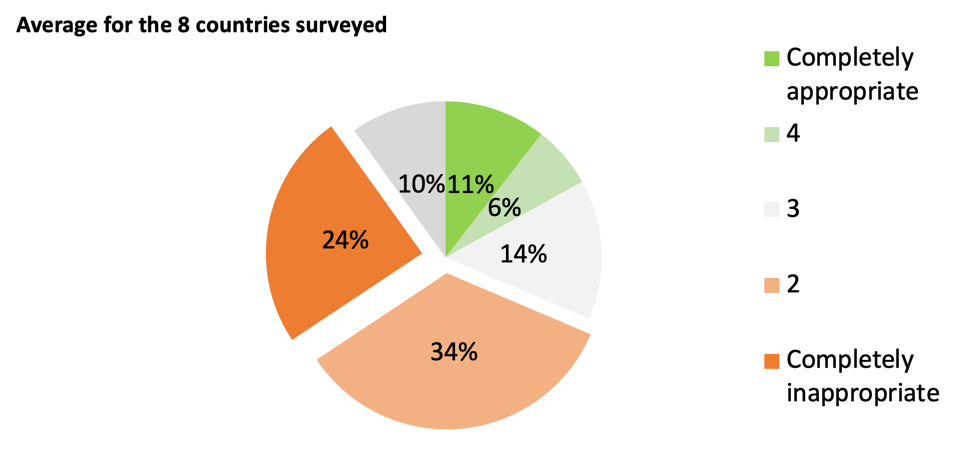 Another major issue to surface in the trust survey relates to user experience. Nearly half of all respondents (49%) said most or all the surveys they have completed in the last three months were too long. With the increase in mobile penetration rates, length, in particular, has been an issue for participants for some time. 
In response to questions about respect, 49% of respondents said they felt better about the survey they completed when there was a thank you video included and 43% of respondents said they would be more motivated if they knew the company or brand that sponsored the survey.
The Next Step for Market Research

We know that trust in market research is low, but what do we do about it? How do we build more open and transparent relationships and win back the trust of participants? 
The response must be a three-pronged process that includes:
Improving the perceived value of research
Improving how we build participant trust and use personal data
Improving the user experience
We can take immediate action and create a material impact on all three of the above factors by focusing on the participant engagement experience. InnovateMR is proud to be a champion of the EngageMR program.  This program was created by the GRBN, a non-for-profit industry organization which aims to highlight the actions we can employ to improve the participant experience. 
If we are serious about addressing the chronic issue of low trust in market research, it's time for a change in how we interact and communicate with our research participants. To hear more about the results of the 2018 Trust Survey from those involved, click the link below to watch a special encore webinar replay.
{{cta('d9be8b59-adb4-4990-9ad5-c9cde5bb6378′,'justifycenter')}}